No.1 Website in India |
Secured Payment |
Gift |
Best prices |
Best Brands |
Easy Buy |
Ready Stock Of Craft Supplies |
100% Original products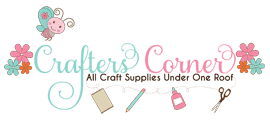 FREE DELIVERY**
For Orders above Rs.2999
Contact us
info@crafterscorner.in
Shipping and Returns
Domestic Shipping :
We offer shipping anywhere in India.
We take utmost care in shipping of your products. But to make all procedure smooth and easy please allow us 1-3 working days for your order to be dispatched. Normally orders placed before 12 pm on a business day, we aim to ship the same day, providing card security checks are complete, payment received and stock availability is confirmed. Orders placed after 12 pm will be shipped the very next business day. Orders Received on Sunday or during Holidays are dispatched the following Monday or next working day. During busy times, such as holiday periods, there could be a long processing time and shipping delays so please bear with us.
Since we do not use Speed Post services the orders cannot be shipped to PO boxes or military addresses until there is a particular courier service which can reach there. Rural domestic addresses require one or more additional days to deliver.
Crafters Corner uses all leading courier companies for the shipment of your products and generally the time taken to deliver any product anywhere in India is estimated as 48 hrs to 72 hrs. However if the product is bulky the parcel will be shipped by surface (by road) which would take 7 -10 days to reach until requested by the customer for an urgent delivery or by air. But if there is any unseen or unexpected problem then the parcel either shipped by air or by surface might be dealyed. Unexpected problems could be anything like :
# Unable to reach the customer.
# Customer's phone number not working/ not reachable.
# Any kind of stirke in the city or in courier company.
# Any natural calamaities like earthquake, flood, drought etc.
# Any raid by any government department.
# Any kind of mishappening during transit.
For shipments delivered outside DELHI, the customer's state may charge an OCTORI Duty on the top of the price of the item. These charges are beyond our control and can't be reimbursed in any case so kindly do not ask for the same.

Domestic customers are responsible for any OCTORI Duty charged by your state government. We are unable to predict which shipments will be assessed these fees or the amount of the fee that may be charged. So we are not responsible for the same or for any adjustment. In cases of refusal to accept the parcel with OCTROI Duty, customer will have to bear the shipping charges and other expenses and after adjusting all the expenses the balance amount will be issued as STORE Credit and the same can be used for future purchases from the store.
International Shipping:
We offer shipping internationally.
For any International Shipment please allow us 3 to 5 days as the processing time. The shipping charges and transit time will vary for any international shipment as it solely depends on the location and the courier company used. Though we use DHL / FedEx / Bluedart / Aramex / TNT but we still can not guarantee any time frame for delivery as custom clearence is also included in the same. With our best efforts we try to deliver the product within 5-7 working days but we can not guarantee the same.
For some shipments delivered outside India, the importing country may charge an import duty/VAT on top of the price of the item. These charges are beyond our control and can't be reimbursed in any case.
International customers are responsible for any import or customs fees charged by your government. We are unable to predict which shipments will be assessed for these fees or the amount of the fee that may be charged.
About Customs, Duties & Taxes:
When ordering from www.crafterscorner.in, you're responsible for assuring the product can be lawfully imported to the destination country.
The recipient is the importer of record and must comply with all laws and regulations of the destination country. Orders shipped outside of the India may be subject to import taxes, customs duties and fees levied by the destination country. The recipient of an international shipment may be subject to such import taxes, customs duties and fees, which are levied once a shipment reaches the recipient's country. Additional charges for customs clearance must be borne by the recipient; we have no control over these charges and can't predict what they may be. Customs policies vary widely from country to country. If customs clearance procedures are required, it can cause delays beyond our original delivery estimates.
Tracking:
After any parcel is dispatched you will get an email containing the details related to your parcel. In case you have any question please email us at info@crafterscorner.in.
Cancellation of Order
In case we receive a cancellation e-mail and till that time the order has already been "processed" by us, the order cannot be canceled. Crafters Corner has the complete right to decide whether an order should be cancelled or not. Also, the customer agrees not to dispute the decision made by Crafters Corner and accept Crafters Corner decision regarding the cancellation.
Request for cancellations of orders once placed on www.crafterscorner.in shall not be entertained. If at all we have to accept any cancellation there would be a charge of 10% of total amount (excluding shipping amount) of the order as restocking fees. However after placing an order, customer can only cancel the order if the order state is showing as "pending" under Order History. Cancellations have to be made within (maximum) 2 Hours of placing an order. For canceling your order, you will have to get in touch with our Customer Support Team by sending an email giving your Order Number.
Replacement/ Return Policy by www.crafterscorner.in
We take stringent measures to ensure that the items delivered to you are in perfect condition. However, there is a remote possibility that :
• the item may be damaged during transit.
• or there might be a manufacturing defect.
• or that a wrong item is delivered to you.
In only such cases as given above, we will replace the item at no extra cost, provided that the request for replacement / return of item is made within the stipulated time-frame which is 24 hrs of recieving the parcel.
To get a replacement, email us your Order Number and the Reason for returning. Only after receiving our confirmation for the return, you are requested to send the item back to us. Once we recieve the item back we will then arrange for the replacement of the item through our logistics partner. In case of a replacement, our logistics partners will attempt delivery of the items thrice. In case the delivery is not executed during all the three attempts, due to recipient not available / premises locked, etc., the customer will be charged for re-attempt of the delivery. We shall not be responsible for any items sent to us for return / replacement without our confirmation.
There are certain possibilities where it is difficult for us to support you for the same :
1. In case of Gift Certificates no refund or replacements would be allowed.
2. In case of pre order no such requests would be entertained.
3. If the product is not the same as sent no such requests would be entertained..
4. In case of the product damaged by the customer while opening the parcel.
5. In case of electronic items such as heat guns, machines etc no such requests would be entertained.
6. In case of any missing item from the package you have recieved including original packing, accessories, price tags etc no such claims would be entertained.
Packaging Issues :
At Crafters Corner we make sure that all the goods ordered by you should reach to you in the best condition but since we are dealing in products which are imported and have to travel for days/weeks/months to reach us so there is a slight possibility of any packaging being damaged. But having said that we do ensure that the product performance never goes down becasue of the same and the main product completely remains intact. At times it might be a case that the product might have a little tampered packaging which is originally recieved by us in the same condition. Kindly be assure that you will never have to regret for your purchase from us.
Crafters Corner only deals in brand new and the latest batch of the products so kindly be ensure of the quality of the product.
Note : 99% of our products do not have any expiry date.
Refund Policy by www.crafterscorner.in
We do not offer any refunds, in case of any refunds we will only issue a STORE CREDIT which can be used for future purchases from the store.
• If the item sent for replacement is not available, we will try to give you the best possible alternatives, but at the end choice of customer will be final.
• If the order is confirmed by us and we are unable to ship the product, then we will issue the refund to the customer which might take 5-7 working days to get transferred.
Limitations
For products shipped internationally, please note that any manufacturer warranty may not be valid; manufacturer service options may not be available; product manuals, instructions and safety warnings may not be in destination country languages; the products may not be designed in accordance with destination country standards, specifications, and labelling requirements; and the products may not conform to destination country standards. You are responsible for assuring that the product can be lawfully imported to the destination country. When ordering from Crafters Corner, the recipient is the importer of record and must comply with all laws and regulations of the destination country.

Privacy
Your privacy is important to us, and we know that you care about how information about your order is used and shared. We would like our international customers and customers shipping products internationally to be aware that cross-border shipments are subject to opening and inspection by customs and/or postal authorities.

Also, we may provide certain order, shipment, and product information, such as titles, to our international carriers, and such information may be communicated by the carriers to customs and/or postal authorities in order to facilitate customs clearance and comply with local laws.
Return of a product :
We recommend that while shipping an item back to the store please use reliable courier for tracking purposes. As Crafters Corner does not take any responsibility for reimbursement or compensation in the event that any returned packages are lost, stolen, or mishandled. We do not refund shipping in such case.