No.1 Website in India |
Secured Payment |
Gift |
Best prices |
Best Brands |
Easy Buy |
Ready Stock Of Craft Supplies |
100% Original products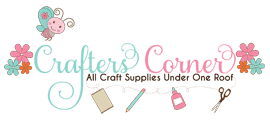 FREE DELIVERY**
For Orders above Rs.2999
Contact us
info@crafterscorner.in
Terms and Conditions
We at Crafters Corner would like to state that all information, products and services displayed on www.crafterscorner.in website constitute an "invitation to offer". Your order for purchase constitutes your "offer" which shall be subject to the terms and conditions as listed below. Crafters Corner website has the right to accept or reject your offer without assigning any reason thereof.

In order to use www.crafterscorner.in website belonging to Crafters Corner, you (The User) have accepted the following terms and conditions given below but we reserve the right to add, delete, alter or modify these terms and conditions at any point of time.

You (The User) are therefore advised to read these terms and conditions carefully every time you use www.crafterscorner.in website of Crafters Corner to be confident of your shopping.

1. We at Crafters Corner have made every possible effort to display the color of our products that appear on the site as accurately as possible. However, as the actual colors you see will depend on your monitor so we cannot guarantee that your monitor's display of color will be accurate. Also at times due to reflection of light effects it may vary a little which is beyond our control and we shall not entertain any such claims regarding exchange of product.

2. The User certifies that he/she is at least 18 (eighteen) years of age or has the consent of a parent or legal guardian to make any purchase from us and at the same time we do not hold any responsibility towards any misuse of the product purchased by you (The User).

3. Crafters Corner will not be responsible for any damage suffered by users due to any negliegence in using the product purchased from www.crafterscorner.in. This disclaimer of liability also applies to any damages or injury caused by any failure of performance, negligence, defect, deletion, error, omission, interruption, delay in operation or transmission, computer virus, communication line failure, theft or destruction or unauthorized access to, alteration of, or use of record, whether for breach of contract, tortuous behavior, or under any other cause of action.

4. Crafters Corner will take "Full Responsibility" * of your Order. This means that we at Crafters Corner ensure you that all the goods will be packed and dispatched in perfect "GOOD CONDITION" and to ensure smooth delivery to your door step we will use all best courier services. The term "Full Responsibility" means packing the goods in perfect conditions at the time goods leaving the warehouse and also we do take utmost care in packing the goods as per their sizes, weight, volume etc. so you need not worry about our highly efficient packaging system.
5. The prices and availability of products are subject to change without prior notice at the sole discretion of Crafters Corner so no disputes shall be entertained.
6. Request for cancellations of orders once placed on www.crafterscorner.in shall not be entertained. If at all we have to accept any cancellation there would be a charge of 10% of total amount (excluding shipping amount) of the order as restocking fees. However after placing an order, customer can only cancel the order if the order state is showing as "pending" under Order History. Cancellations have to be made within (maximum) 2 Hours of placing an order. For canceling your order, you will have to get in touch with our Customer Support Team by sending an email giving your Order Number.
7. Once the order is placed at www.crafterscorner.in no changes can be made in order thereafter.
8. Crafters Corner reserves the right to refuse or cancel any order placed for a product that is listed at an incorrect price or for any other reason. This shall be regardless of whether the order has been confirmed and/or payment been received. The payment shall be refunded and the User shall be informed of the same.
Note : In this case no restocking fees would be charged.

9. If a non-delivery or late delivery occurs due to a mistake by the User (i.e. wrong or incomplete name or address or recipient not available) any extra cost spent by Crafters Corner for re-delivery shall be claimed from the User before re-dispatch of the order.
10. In case of COD orders if the order is not accepted by the user at the time of delievery for any reason then there shall be fees of Rs 200/- which will be outstanding and will be charged at the time of next order. And no orders shall be accepted without that penalty.

11. By placing the order The User agrees to give accurate, authentic and true information. Craftrers Corner reserves the right to confirm and validate the information and other details provided by the User at any point of time. If any such User details are found not to be true wholly or partly, Crafters Corner has the right in its sole discretion to reject the registration and debar the User from using the services of www.crafterscorner.in without prior intimation whatsoever.

12. Crafters Corner will not be liable for any type or kind of credit card fraud. The liability to use a card fraudulently will be on the user and the onus to 'prove otherwise' shall be exclusively on the user. The User must exclusively use his/her own card on the site at the time of purchase.
13. Crafters Corner provides no warranty, either express or implied with respect to any product, and specifically disclaims all other warranties, including, without limitation, warranties for merchantability, non-infringement and fitness for any particular purpose. Crafters Corner's sole obligation and liability for product defects shall be, at Crafters Corner option, to replace or issue store credit only against any manufacturing defect (Manufacturing defect will be solely decided by Crafters Corner) to buyer. In no event shall Crafters Corner exceed the buyer's purchase price.
14. At Crafters Corner we do take care of complaints related to delievered parcels only if informed within 48 hours of delievery. No complaints shall be entertained regarding the wrongly ordered product by you (The User). This is done in the interest of the consumer to avoid any fake complaints and products.
15. This agreement is constructed in accordance with the applicable laws of India. The Courts at Delhi shall have exclusive jurisdiction in any proceedings arising out of this agreement.